Turbo Dismount™
1.43.0
Crash Simulator Game – A Wild Ride of Mayhem and Laughter
Do you like watching car crashes? Want to see the impact car crashes can have on the vehicle and the passengers? If yes, then this crash simulator game is the perfect fit for you. Turbo Dismount is a fun game in which you get to simulate car crashes and cause as much destruction and chaos as possible. It takes the concept of vehicular mayhem to a whole new level, and it's an absolute blast from start to finish. Your goal in this game is to crash your vehicle at high speeds, damaging both the car and the character inside it. You need to make sure that you crash the vehicle in such a way that both the car and the character receive the maximum possible damage.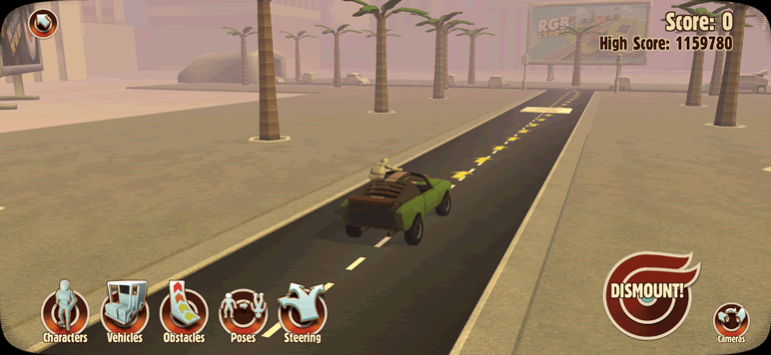 Turbo Dismount has a deceptively simple concept that is endlessly entertaining in execution. The gameplay of this crash simulator game is quite straightforward. You just need to choose a vehicle, select a level, and then set up various obstacles, ramps, and hazards to create the most spectacular and bone-crunching crashes imaginable. The game's visuals are a treat for the eyes. The detailed 3D environments are beautifully rendered, and the vehicles are meticulously designed. Each crash is visually stunning, with debris flying everywhere and vehicles contorting in ways you never thought possible. The sound effects are equally impressive, with realistic crunches, smashes, and bone-breaking sounds that add to the game's dark humor. This game's physics engine is incredibly realistic too, making every collision, flip, and tumble feel authentic.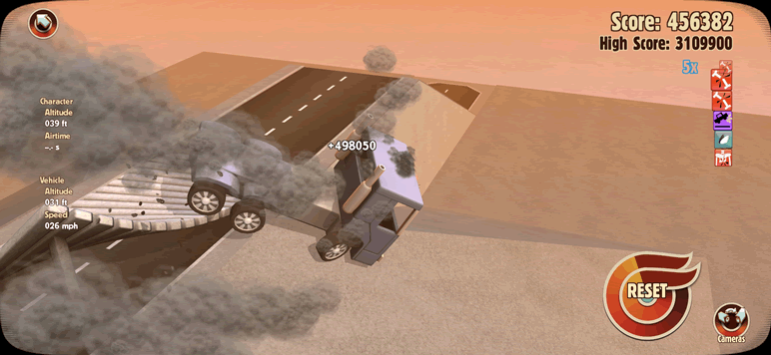 This crash simulator game is very easy to play. There is a Dismount button provided at the bottom-right corner of the screen. You need to press and hold this button to rev up your vehicle's engine and release it at the right time to get the maximum speed. Once you let go, the vehicle will move on its outlined path and crash into the other vehicles or obstacles in the way. It's both horrifying and hilarious watching your character's ragdoll body getting flung around like a crash test dummy. You will receive points for each injury sustained by the character as well as the damage received by the vehicle. The details of the injuries and the score you have obtained can be seen on the top-right corner of the screen.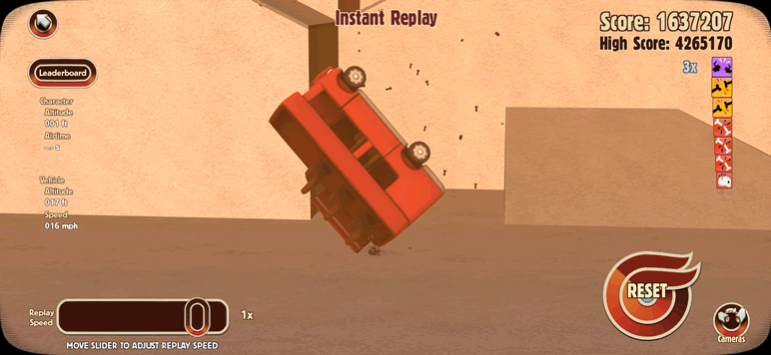 Turbo Dismount offers a variety of levels to you. Each level presents a different scenario for you to crash your vehicle. There is a wide range of vehicles and characters available to you as well. You can select various poses for the characters too. That's not all. This crash simulator game lets you customize the levels by adding obstacles to them. There are multiple types of obstacles that you can use ranging from ramps, speed bumps, and even brick walls. You can watch the crashes from multiple camera angles in this game and also see instant replays of each crash. There are daily and weekly leaderboards also available for each level that let you check where your score stands amongst other players.
Features:
A large variety of levels available
A wide range of vehicles to choose from
Multiple types of characters on offer
Various poses available for each character
An extensive collection of obstacles
Multiple camera angles to view the crashes
Instant replays to rewatch the crash in slow motion
Daily and weekly leaderboards for each level
Conclusion:
Turbo Dismount is a game for people who have an interest in car crashes. It lets you run simulations of car crashes and allows you to see how damaging they can be for the human body. Whether you're a fan of vehicular carnage or just looking for some good, old-fashioned fun, this crash simulator game delivers in spades.
RELATED PROGRAMS
Our Recommendations
---
---
---
---